It is the leading brand of double glazing in Spain. A SGG CLIMALIT volume consists of two or more panes, separated by a watertight chamber.
Due to its configuration it constitutes an excellent thermal and acoustic insulation compared to a simple glass.
It hinders the exchanges of heat between the two environments that delimits, isolating both the cold and the heat, due to the thermal resistance of the dry air and at rest, enclosed in its chamber.
SGG CLIMALIT provides interesting savings in energy consumption (calories and BTU). The use of a minimum thickness of 4mm in each glass provides an important acoustic correction factor.
These properties can be reinforced and/or complemented by integrating other specific glasses to meet your needs.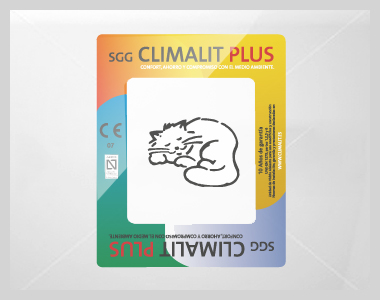 RANGE OF GLASSES
SGG CLIMALIT increases comfort and well-being, providing a higher quality of life, integrates joint solutions to the problems of solar and thermal control, sound insulation and safety. FABRICADOS TIR offers its wide range of crystals to suit the customer.
AutoCleaning
SGG CLIMALIT with SGG Bioclean insulation
Reinforced thermal
SGG CLIMALIT PLUS with SGG PLANITHERM S
Comfort 4 Seasons
SGG CLIMALIT PLUS with SGG PLANISTAR
Solar Control
SGG CLIMALIT PLUS with solar control
Reinforced Acoustic Insulation
Reinforced Acoustic Insulation
SGG CLIMALIT SILENCE
Security or reinforced protection
Security or reinforced protection
SGG CLIMALIT SAFE O PROTECT
Diseño y estética
SGG CLIMALIT DESIGN